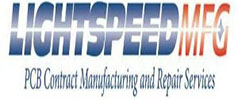 From rapid prototyping to manufacturing at scale, we strive to be your trusted partner as your products change the world.

Lightspeed Manufacturing has over 30 years of experience working with the most innovative companies in the world to deliver PCB assembly and repair and a full suite of contract manufacturing services - always on time and always with an unceasing commitment to quality.
Presentations
No Presentations Currently Available.
Lightspeed Manufacturing
Supplier Update Form
Use the form below to request updates to this supplier page listing.


Contact Information
135 Ward Hill Ave.
Haverhill, MA 01835
Phone: 978-521-7676
Fax: 978-521-7675




Line through indicates
social medial link missing.