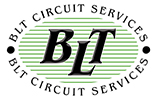 BLT is the leading manufacturer and distributor for a comprehensive range of consumable products for cost efficient, high reliability circuit assembly. Established in 1989 and experts in soldering technologies, we have grown rapidly in our home market and across the World supported by our Technical Team.

We specialise in selling a solution to your needs.
Presentations
No Presentations Currently Available.
BLT Circuit Services Ltd
Supplier Update Form
Use the form below to request updates to this supplier page listing.


Contact Information
Brome Industrial Estate
Brome
Eye
Suffolk
IP23 7HN




Line through indicates
social medial link missing.