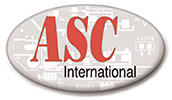 ASC International helps electronics manufacturers worldwide improve their production yield and profits.Using our portfolio of optical-based solder paste measurement systems, Automatic Optical Inspection (AOI) systems, process control tools and production equipment, we work closely with our customers to develop and implement yield improvement strategies that work... guaranteed. "

The circuit board assembly industry is becoming more competitive, while board configurations are becoming more complex and component sizes are decreasing.
Presentations
No Presentations Currently Available.
ASC International
Supplier Update Form
Use the form below to request updates to this supplier page listing.


Contact Information
Your Address Information is missing.




Line through indicates
social medial link missing.