Research & Technical Papers
No Recent Research Postings.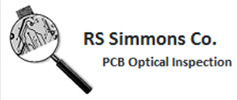 RS Simmons manufactures Optical Inspection Systems for PCB Assemblies. We're introducing a new product - The SimmScope SAOI Semi Automatic Optical Inspection machine for SMT and thru-hole assemblies. The SimmScope creates a new category of inspection system that bridges the gap between traditional manual methods and automatic systems at a fraction of the cost of an AOI machine. It allows for 100% inspection with improved speed and accuracy with automatic report generation for traceability purposes.

Presentations
No Presentations Currently Available.
RS Simmons Co., LLC
Contact Information
818 Harmony Hill Road
West Chester, PA 19380 USA
Phone: 610-547-7690
Fax: 610-873-3402