Research & Technical Papers
No Recent Research Postings.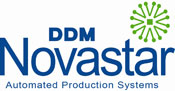 Designs and manufactures a range of cost-effective turnkey solutions for surface mount and through hole assembly systems for low to medium volume OEM and contract manufacturers.

Equipment includes manual and automatic stencil printers, manual and automatic pick & place systems with dispensers, wave solder and models of selective solder machines, lead-free solder-reflow ovens (including models with exclusive patented horizontal convection), component counters, and through-hole rework systems.

Our newest products include the 'NovaPlace' pick and place machine and the 'NovaSelect' selective solder machine.
DDM Novastar Inc.
Contact Information
212 Railroad Drive
Ivyland, PA 18974