Research & Technical Papers
No Recent Research Postings.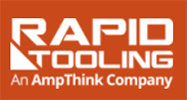 Since 1994 Rapid Tooling Inc. has been providing quality design, engineering and manufacturing services to the local DFW area. Over the years we have evolved into the number one source for manufacturing and product development needs with customers worldwide.

Rapid Tooling is a combined CNC machine shop/design and prototyping center and we specialize in design and tooling for manufacturing. With 11 CNC machining and lathe centers staffed around the clock, we can provide quality product to our customers when needed. Depending on factors such as scope of project, materials availability or finish requirements, same day to 24-48 hour turn times can be achieved in many instances. In addition, Rapid Tooling can manage short run, quick turn sheet metal requirements.
Presentations
No Presentations Currently Available.
Rapid Tooling Inc.