Research & Technical Papers
No Recent Research Postings.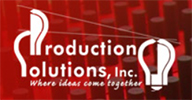 Established in 1998 as an engineering, design and manufacturing company, Production Solutions, Inc. is located in Poway, California north of San Diego.

The focus of our development projects has been on improving the methods of assembly of printed circuit boards. In 2000, the first product introduced was the Red-E-Set board support system for semi-automatic screen printers. Well received by the market, PSI introduced the inline version in 2001 for Printers, Pick & Place, Chipshooters and Dispensers.
Presentations
No Presentations Currently Available.
Production Solutions, Inc.