Research & Technical Papers
No Recent Research Postings.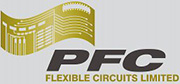 PFC Flexible Circuits Limited designs, manufactures and assembles flexible circuits and rigid flex. PFC is successful because we provide customers with full service solutions all under one roof.

Founded in 1997, PFC is proud to be celebrating its 20th anniversary in 2017. The company's breakthrough came in 2001 when a company called Research in Motion (RIM) chose PFC as it's flex designer, manufacturer, and assembly house. PFC road the RIM wave for five years until RIM moved its manufacturing to Asia. Since then PFC has broadened its customer base and markets to include Telecommunications, Medical, Military, Aerospace, and Industrial.
Presentations
No Presentations Currently Available.
PFC Flexible Circuits
Contact Information
11 Canadian Rd, Unit 7
Scarborough, ON
Canada M1R 5G1