Research & Technical Papers
No Recent Research Postings.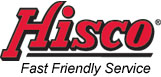 Hisco is a specialty distribution company serving the electronic assembly and other industrial markets whose mission is to deliver value to customers through quality products, process solutions and local inventory. In addition, we offer specialized warehousing for chemical management, cold storage and logistic services.

Today, the international Hisco branch network includes 25 stocking locations- 19 in the United States and 6 operated by our HiscoMex subsidiary in Mexico- plus 4 Precision Converting facilities that provide value-added fabrication and custom repackaging.
Hisco, Inc.