Research & Technical Papers
No Recent Research Postings.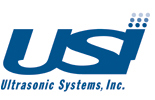 Ultrasonic Systems, Inc. (USI) manufactures high performance spray coating equipment based on proprietary ultrasonic spray coating technology. Products include the PRISM Ultra-Coat Spray Coating System platform, PV360 Photovoltaic Coating System, Ultra-Spray Web Coating System and the Ultra-Spray Fluxing line.

USI provides:
* High performance spray coating equipment
* Proprietary "nozzle-free" ultrasonic technology
* Solutions for a variety of applications in multiple industries
* Thousands of installations world-wide
Presentations
No Presentations Currently Available.
Ultrasonic Systems, Inc.