Research & Technical Papers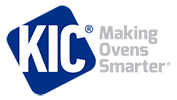 KIC provides hardware and software tools that help define, measure, monitor, and improve thermal processes for electronics manufacturing services. This reduces downtime, can decrease electrical expenses, and reduce your labor costs, all while improving your manufacturing quality, overall productivity, employee morale and customer satisfaction and ultimately, profits.

KIC does this with a focus on continuous innovation. We've developed an entire generation of smart technologies for reflow ovens, curing ovens, and wave solder machines, allowing you to not just reduce production costs, to not just improve quality, but to add capabilities that you can use to win new business.
KIC