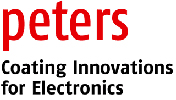 The Peters Group, based in Kempen, Germany, is an independent family company and the only complete coatings supplier for electronics in the world.

From coatings for the manufacture of printed circuit boards and the protection of assembled printed circuit boards/electronic components to integrated coating technology solutions, Peters is a global leader in the field of electronics-related high-tech coatings for automotive electronics, aerospace engineering, industrial electronics, medical technology, LED applications and other industries.
Presentations
No Presentations Currently Available.
Lackwerke Peters GmbH & Co KG
Supplier Update Form
Use the form below to request updates to this supplier page listing.


Contact Information
Hooghe Weg 13
47906 Kempen
Germany




Line through indicates
social medial link missing.