Research & Technical Papers
No Recent Research Postings.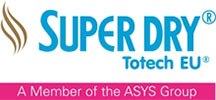 Super Dry is a Moisture Sensitive Device (MSD) handling & storage specialist. Our dry storage solutions deliver a low, controlled level of humidity (<0.5%). Moisture absorbent materials including electronic components, PCBs (printed circuit boards), nano fibers, contact lenses, laboratory samples, 3D printing polymers and other vulnerable materials are kept dry and free from water ingress.
SuperDry Totech
Contact Information
Totech Europe BV
Paxtonstraat 11,
8013 RP, Zwolle,
The Netherlands

+31 321 330 239
info@superdry-totech.com